The Molo9™ Entrepreneurial Excellence Award Recipients
Each quarter the Molo9™ Entrepreneurial Excellence Award celebrates our modern day revolutionaries; the founders who see the future & make it our present day reality.
The Molo9™ Entrepreneurial Excellence Award Recipient Fall 2021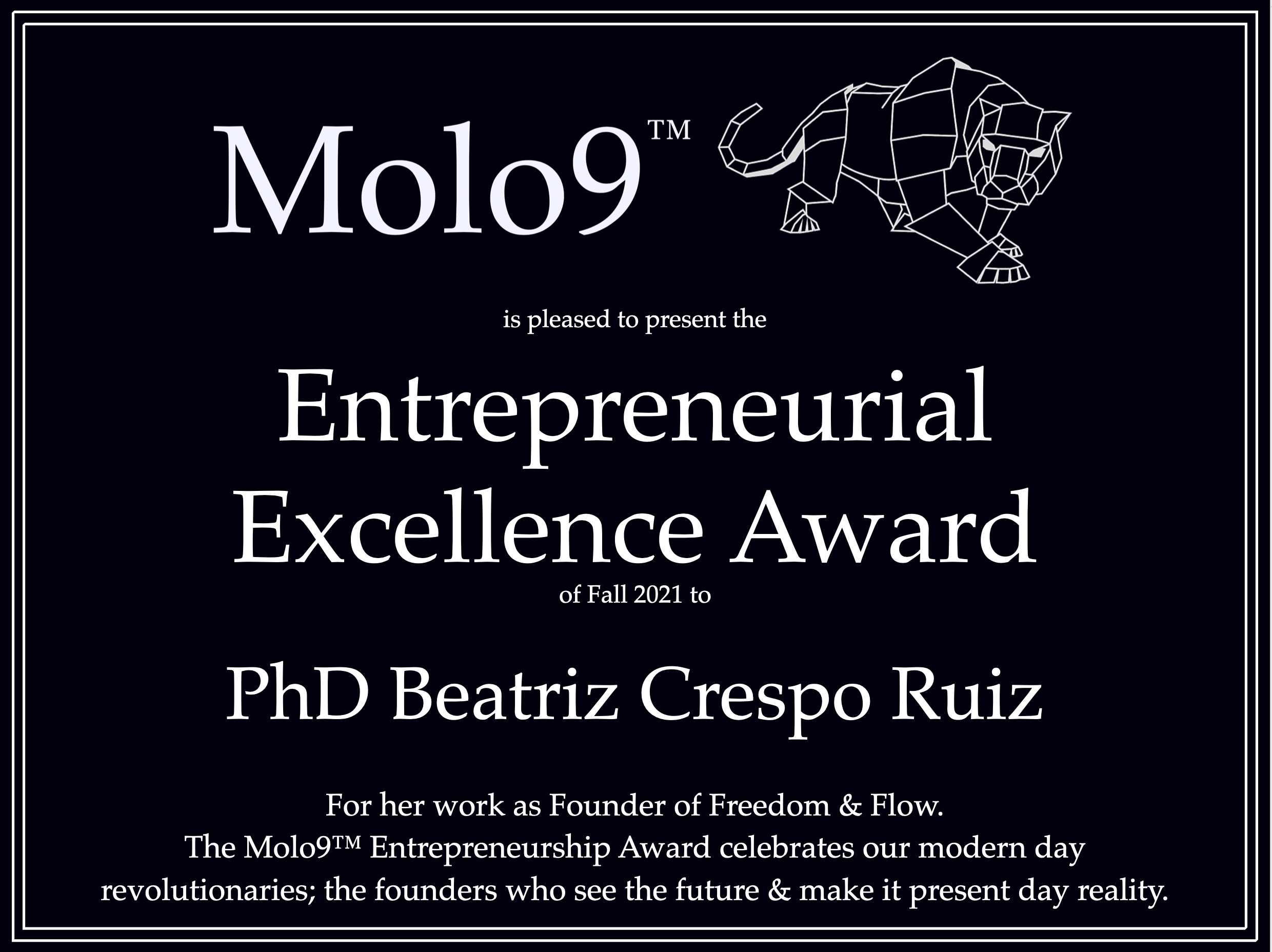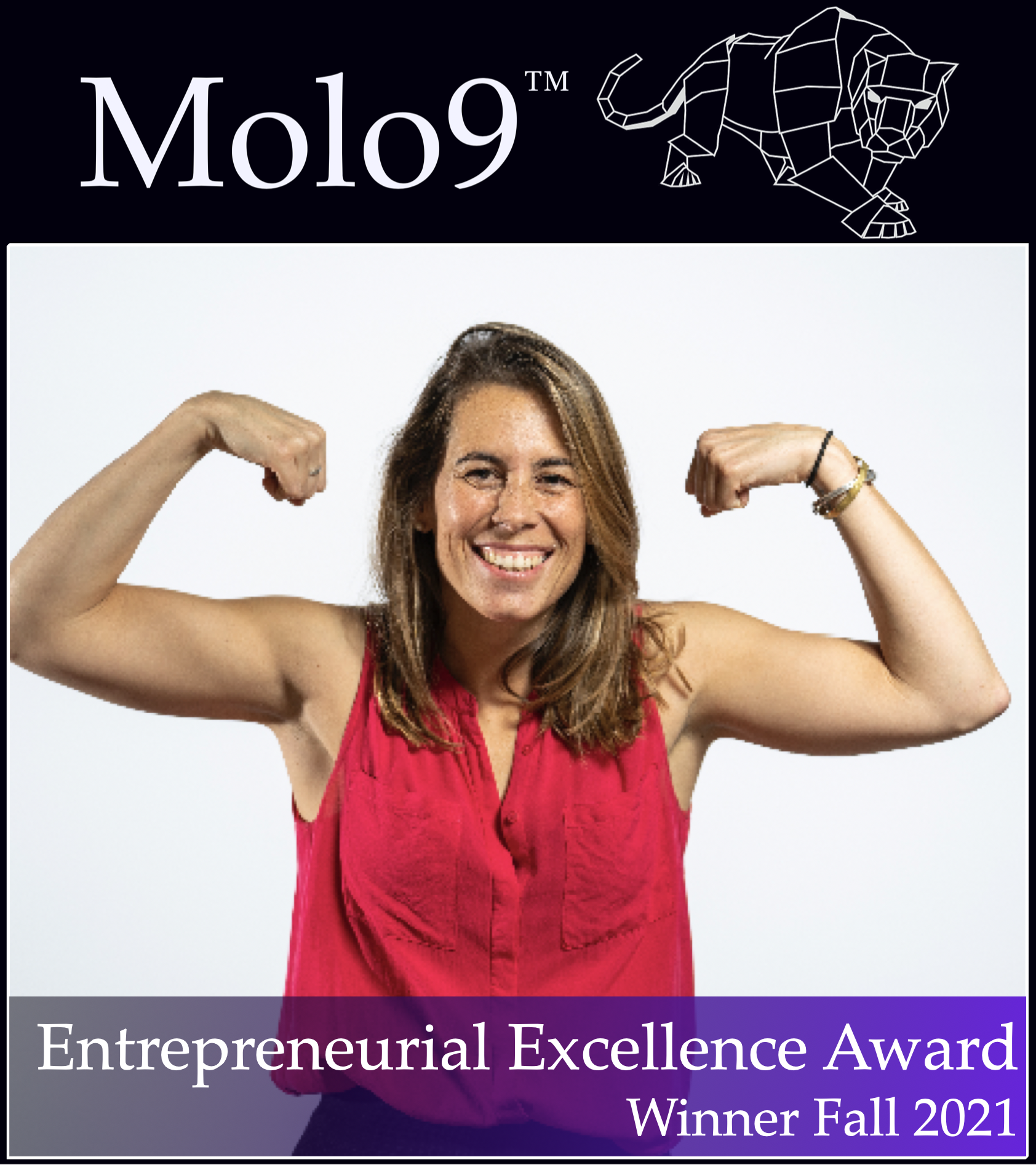 Name: PhD Beatriz Crespo Ruiz
Company: Freedom & Flow
Website: FreedomAndFlowCompany.com
PhD Beatriz Crespo Ruiz is one of the few people in the world who has two Cum Laude Doctorates, in Medicine (2017) and Sports Performance (2012).
In 2014 she founded Freedom & Flow which develops personalized medicine based on Artificial Intelligence. In 2018 she became one of The Top 100 Women Leaders in Spain.
Since then, she has received numerous recognitions for her professional career as a leading lady.
Freedom & Flow uses scientific methods to discover which health habits are optimal for each person, designing personalized medicine plans, for both individuals and large groups (such as coworkers, patients or citizens).
Beatriz Crespo Ruiz's credentials, academic achievements & additional awards include:
Ph.D Medicine (2017)
Ph.D High Sport Performance in Paralympics (2012)
MSc Sport Organization Management
Ranking Top 100 Disruptive and Innovative Leaders 2021
Top 111 List Nova Talent 2021
Healthcare & Life Science SME Award 2020
ASEME Business Women LinkedIn Top Voices 2019
The Best ZEN CEO 2018 by Adecco Group & El Mundo
The Molo9™ Entrepreneurial Excellence Award Recipient Summer 2021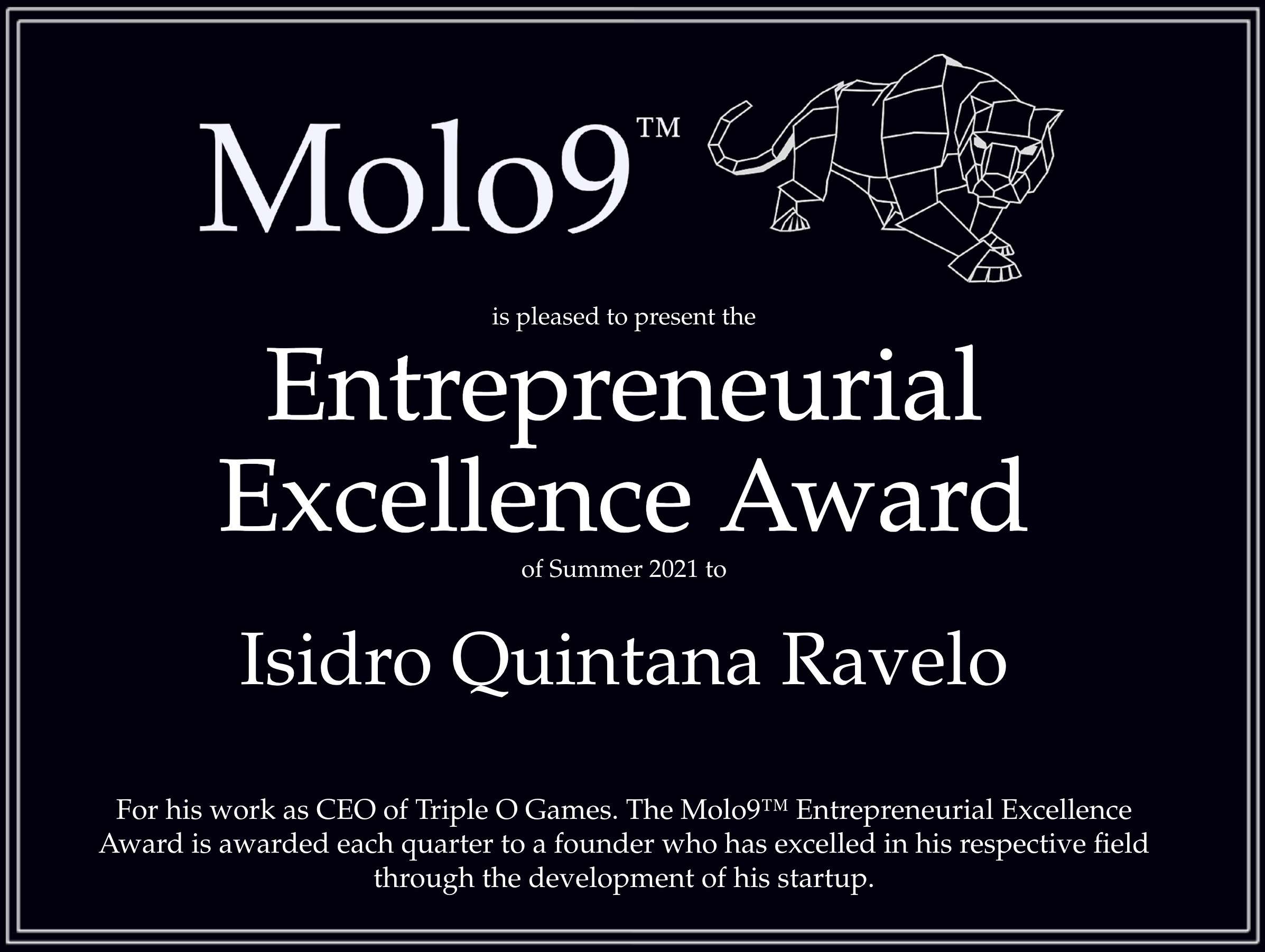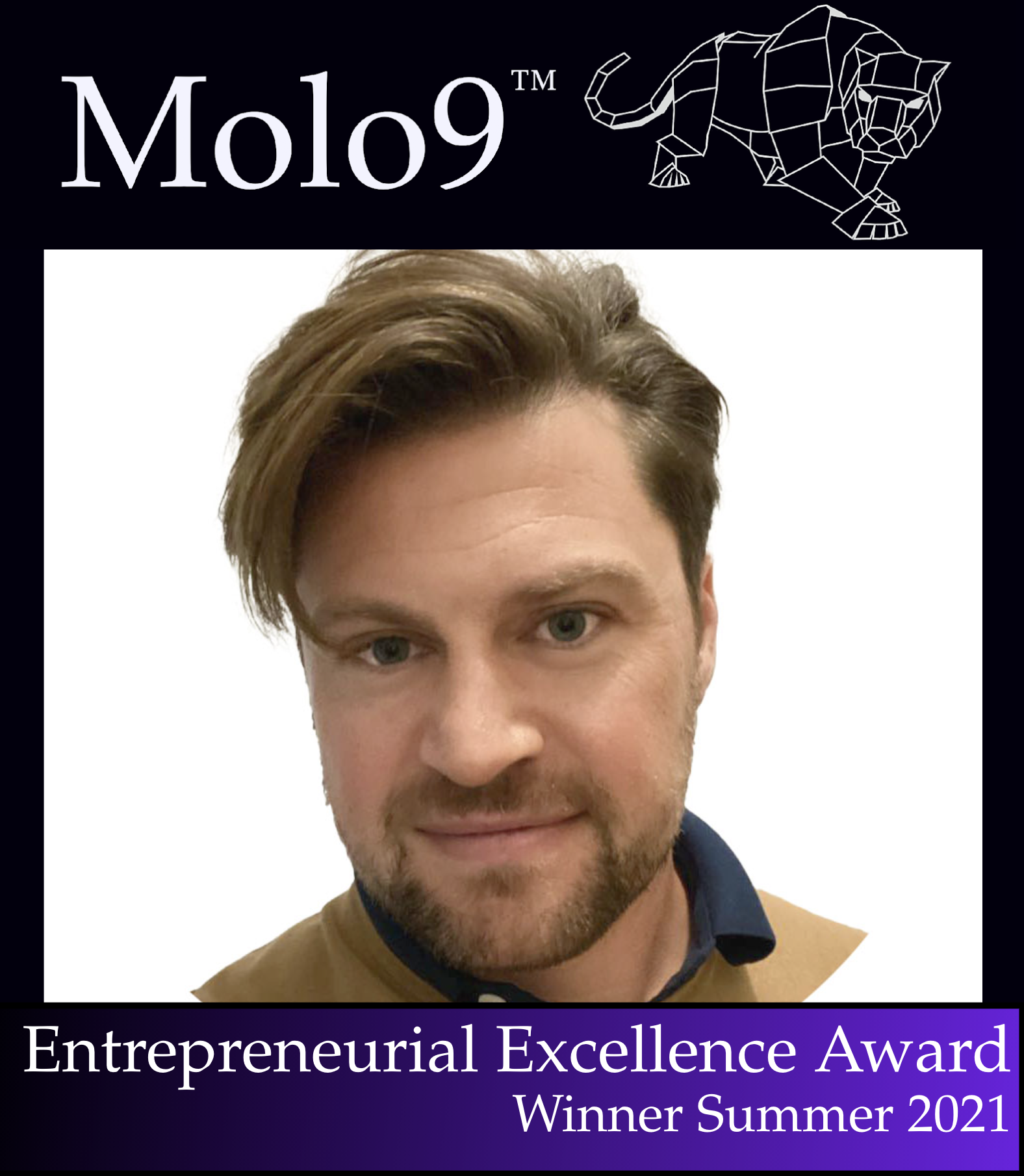 Name: Isidro Quintana Ravelo
Company: Triple O Games
Website: https://tripleogames.com/
The Molo9™ Entrepreneurial Excellence Award Recipient for the Summer of 2021 is Isidro Quintana Ravelo, CEO of Triple O Games.
As a graduate of both Oxford and Stanford University, Isidro combined his unique skills in graphic design, audiovisual communication, Blockchain and conflict resolution to create a new side-hustle.
After working with big brands including: Disney, Warner, Marvel and Mattel, Isidro decided to launch Triple O Games. A blockchain enabled gaming startup that allows players to earn real money, instead of the traditional video game tokens which typically are only redeemable within the respective game.
The Molo9™ Entrepreneurial Excellence Award Recipient Spring 2021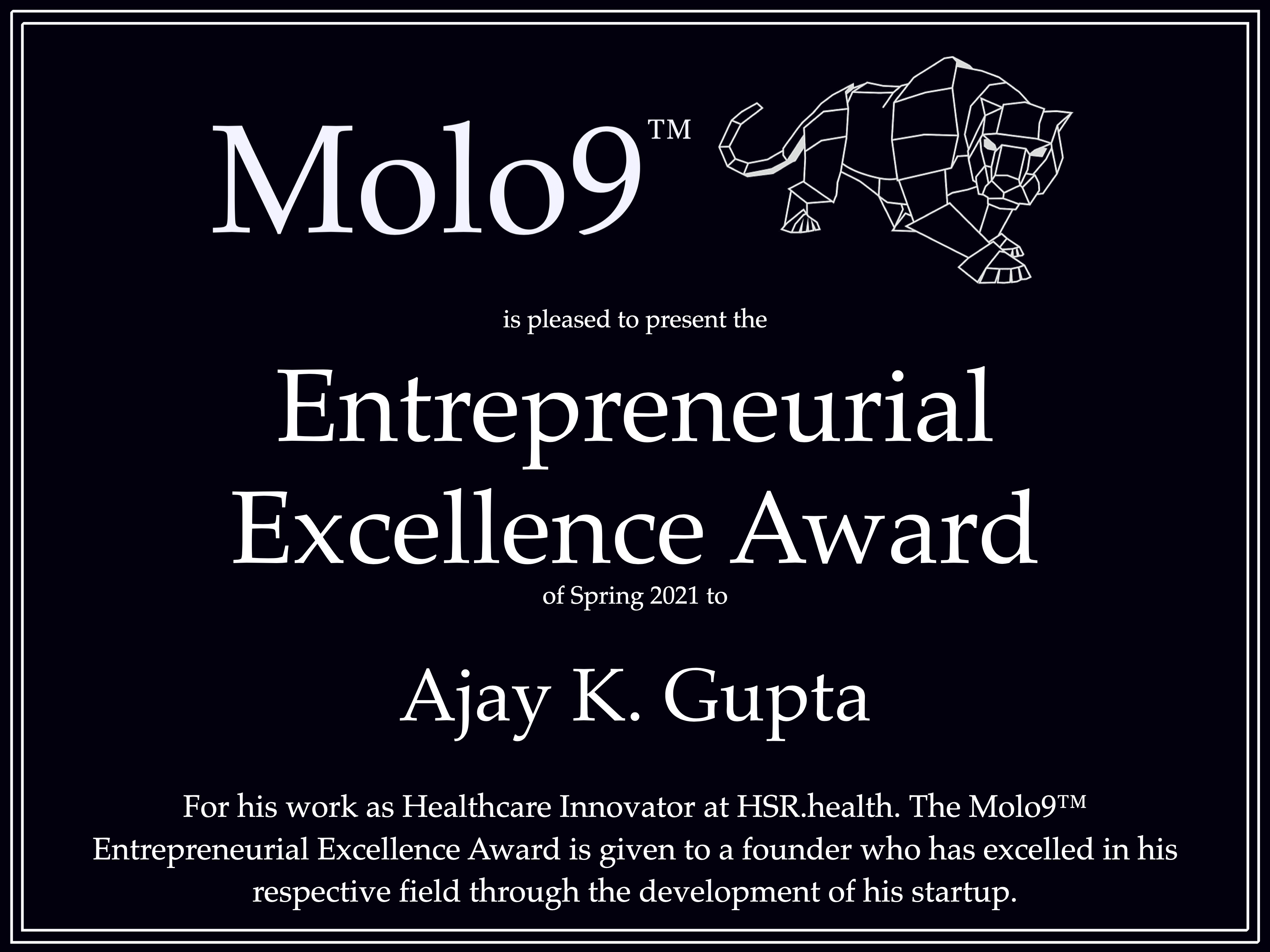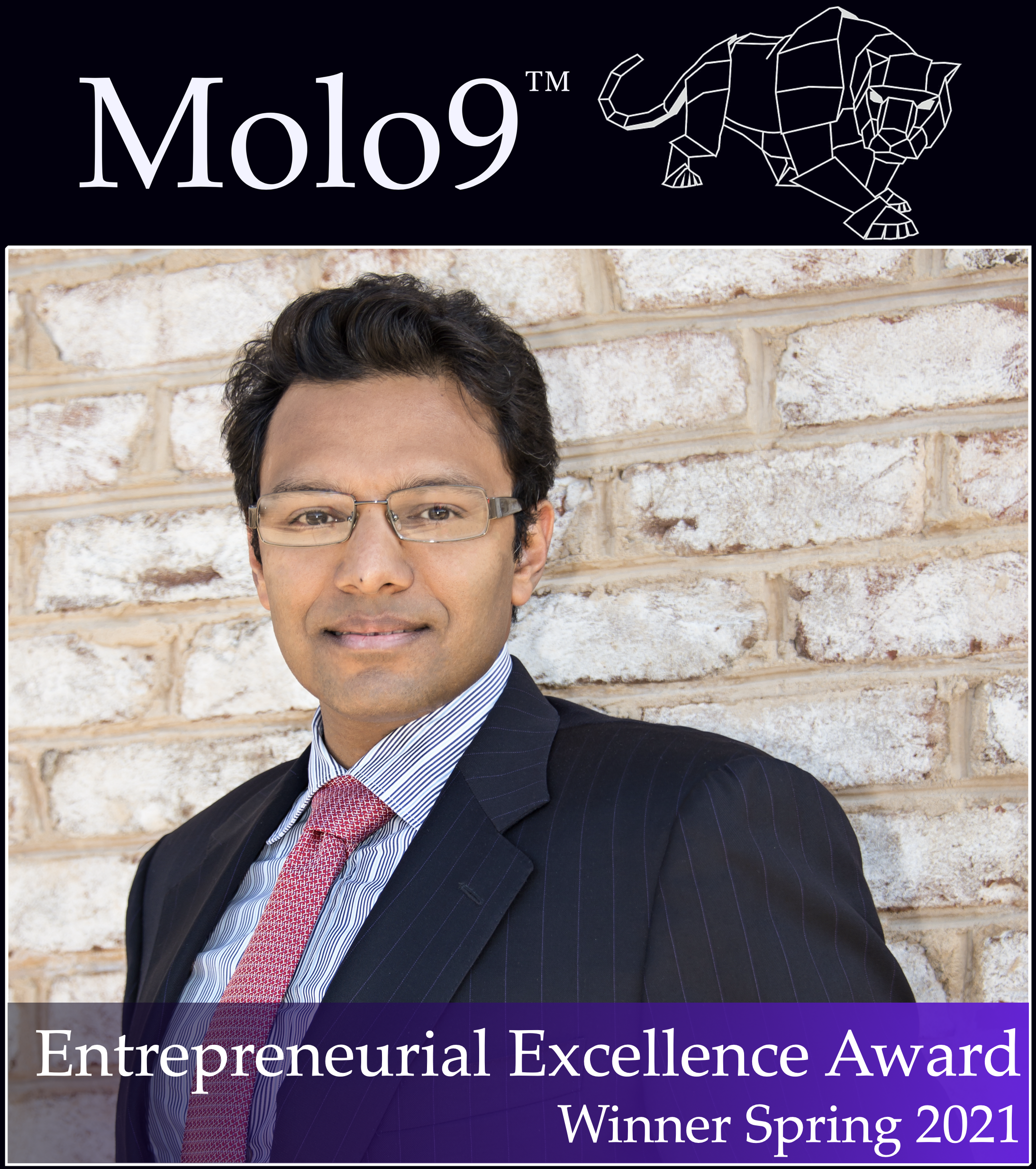 Name: Ajay K Gupta, CISSP, MBA
Company: HSR.health
Website: http://www.HSR.health
HSR.health is a health tech firm. That has developed a geospatial platform to analyze large datasets of health, social, and environmental data to extract and share health risk information with various decision makers throughout this pandemic.

What does the HSR.health's startup do?
HSR.health is a heath tech startup that has supported COVID response efforts globally – in the US through FEMA and several states and in both Central America and Africa through the WHO.
The HSR.health team developed AI-based Risk Indices to track the spread of COVID and identify the at-risk populations so governments can issue lockdown measures where and as appropriate to protect the public. Through their work the HSR team work identified the right number, type, and location of medical resources (e.g., ventilators, PPE) and staffing (i.e., healthcare workers) needed at local levels to address the pandemic.
HSR.health's team developed a Hospitalization Risk Index so health systems could plan in advance how they would handle a surge of patients. The firm helped develop testing and vaccine deployment strategies and is currently working with industries (airlines, travel, schools, etc.) to safely resume operations after lockdowns are lifted.
Based on their experience and lessons learned through responding to the COVID-19 pandemic, the team has designed and is building a digital Pandemic Early Warning & Response Platform to ensure the world is better able to identify, mitigate, potential future pandemic, endemic, and emerging disease outbreaks.

What is the HSR.health team's proudest achievement?
While the HSR.health team has many accomplishments, including multiple filed patents and several marque clients, their proudest achievement as a small, young company is working globally with the WHO on pandemic response.

Below is a selection of the credentials, academic achievements, and additional awards held by Ajay Gupta & the HSR.health team:
HSR.health CMO, Ram Peruvemba, MD, FASA recognized as a 2021 Top 100 Healthcare Visionary by the International Forum on the Advancements in Healthcare, based on his leadership of our COVID-19 response efforts.
HSR.health named a 2019 Emerging Company of the Year finalist by the Tech Council of Maryland.
HSR.health has received a State of Maryland General Assembly official citation for our efforts to "Promote Access to High Quality Healthcare Throughout Maryland".
HSR.health principles and board members have published numerous book chapters, and technical papers in prestigious journals and conference proceedings, such as the IEEE Biomedical and Health Informatics conference.
HSR.health has won numerous ExportMD and Maryland Technology Innovation Partnership (MTIP) grants in 2019 and 2020.
HSR.health CEO named the Secretary of the Board of Directors for Holy Cross Health, a multi-hospital, social safety net health system, and the Flagship health system of Trinity Health.
HSR.health CEO chairs the Health Domain Working Group for the Open Geospatial Consortium, the global standards setting body for the geospatial community.
HSR.health CMO is a member of the Board of Trustees for MedChi, the Maryland Medical Society.
HSR.health CMO is the Maryland State Delegate to the governing body of the American Society of Anesthesiologists.
HSR.health has five (5) filed patents covering its Risk Indices and underlying geospatial data infrastructure and analytic platform.
Learn more about HSR.health here.